Season 1 (Part 2) Highlights from She's Big Time Now
I can't believe the ride we have been on during Season 1 of the "She's Big Time Now" podcast. Thirteen women have graciously stepped into the recording studio and stepped up by sharing their stories with us. I am so grateful for their time and for yours as well.
The last seven women on the show had unique journeys that led them down their path to making it big time in their industries. Their stories of success leave clues for all of us to examine and inspire our own experiences. Remember, it's never too late to dream big. Let's dive into this golden wisdom!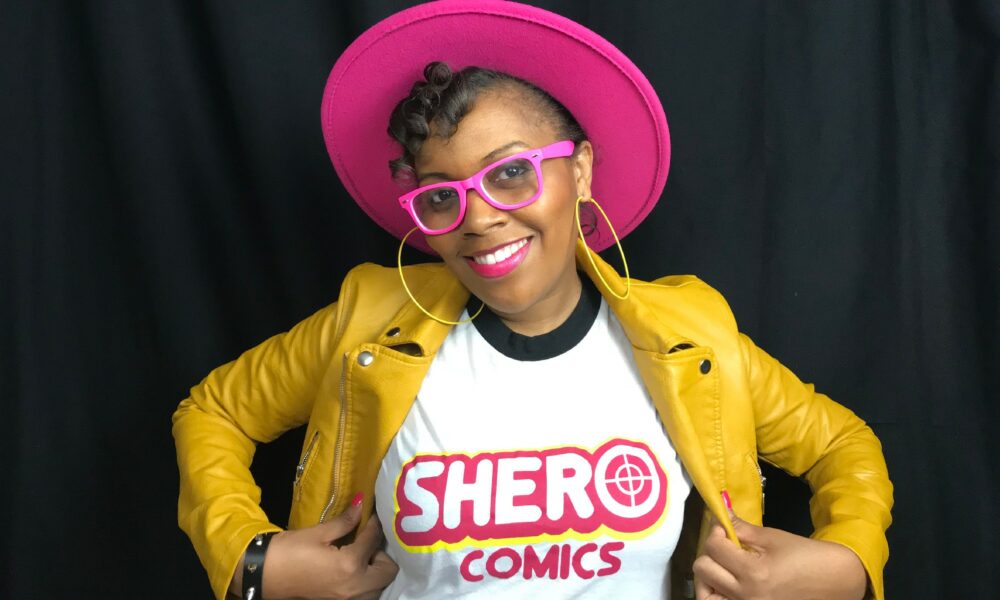 Shequeta L. Smith
Her Story: Shequeta L. Smith is a trailblazer. When she realized there had never been a black female on the cover of a comic book as a superhero, she decided to change that. In 2016, Shequeta launched the multimedia company, Shero Comics, and eventually held the first all female comic convention, SheroCon. Not to mention that for more than fifteen years she's been writing and directing films and award winning screenplays featuring powerful women. Now she's branching out into the gaming industry with a new division of her company Shero Games. On the show she shares why her ability to pivot is her super power, why she believes more people should consider crowdfunding to raise money for their businesses, and why she thinks getting into the gaming industry is a game changer.
Quote: "This is what little Black girls need, to have companies like this showing them characters in their likeness. There is a gap in the industry that's not being filled and it doesn't seem like they are trying to fill it. This is what my life is dedicated to now. When you are doing things in your purpose, even the rejections don't bother you, and you become bulletproof to resistance." - Shequeta Smith
Links:
Episode #7

: Overcome Your Fear of Rejection with Shequeta L. Smith

Jaime Greenberg
Her Story: Jamie Greenberg is one of Hollywood's most indispensable makeup artists and a highly sought-after beauty personality. Her work is seen on red carpet advertisements and is often featured in editorials for Allure, Elle, Cosmopolitan, Harper's Bizarre, and more. Some of her celebrity clients have included Tracee Ellis Ross, Chelsea Handler, Lizzie Caplin and Rachita Jones, just to name a few. Her unique voice within the industry has also led to many guest appearances on Good Morning America, Pop Sugar, and across the beauty blogosphere. In 2020, she launched her first cosmetic line. On the show, she shares how a random job at Ulta sparked her desire to become a makeup artist, how volunteering her services when others would not opened many doors in her career and led to big opportunities, how she's dealt with rejection from celebrities, and how she launched her very own cosmetic line.
Quote: "Bringing a very high vibration and positive attitude gets you so far. People like to be around the light. So if you bring the light everyone is attracted to it." - Jaime Greenberg
Links:
Episode #8:

When to Give Away Your Services for Free with Jamie Greenberg

Ruthie Staalsen
Her Story: Ruthie Staalsen is a trendsetter and a self-taught interior designer who discovered her passion for design after helping her husband flip homes. This eventually led Ruthie to launch her own boutique design firm in the Dallas/Fort Worth area. She has been featured in major publications, including Traditional Home. Architectural Digest named her one of the top 30 entrepreneurs to watch in 2021, and she's previously been awarded the distinction of designer of the year by the Interior Design Society. She is also a design blogger and the co-author of "Behind her Brand."
Quote: "Being an entrepreneur is super stressful, but having faith brings a sense of peace knowing that the things we choose have been put in our path for a reason." - Ruthie Staalsen
Links:
Episode #9:

The Role of Faith in Business with Ruthie Staalsen

Danielle Perez
Her Story: Danielle Perez is a disability rights advocate and a rising star in the entertainment industry. In 2004, she survived a tragic accident that resulted in the amputation of both her legs below the knees, but that never stopped her from pursuing her dreams. Today, she's a Los Angeles-based comedian, actor, and writer. She has opened for Maria Bamford, Cristella Alonzo, and Nicole Byer. Danielle has also appeared in popular shows such as Curb Your Enthusiasm, Special, and Russian Doll, and has upcoming appearances on the Amazon series With Love and the Pitch Perfect spin-off series. With her talent and advocacy, Danielle is breaking barriers and paving the way for more diverse representation in comedy and acting roles.
Quote: "You are allowed to change, grow, and evolve. We are always moving the goal post." - Danielle Perez
Links:
Episode #10:

Paving the Way for More Diversity in Your Industry with Danielle Perez

Audrey Rosenberg
Her Story: Audrey Rosenberg is a Peabody Award-Winning and Emmy-Nominated Producer. She co-founded Invisible Pictures, a New York based woman-led production company that was in operation for more than five years and received national acclaim for its films, including the 2022 HBO documentary, Katrina Babies. Audrey has several new exciting projects in the works, including a TV series starring Sharon Stone and a broad female comedy film. Audrey is a member of the Television Academy, the Producers Guild of America and the Documentary Producers Alliance. She is on the board of New York Women in Film and Television, which advocates for inclusion in media and supports women at every stage of their careers. With her extensive experience in producing films such as Katrina Babies, Bull, Long Weekend, Traders, and the TV series Soul City, Audrey is a true inspiration to aspiring producers.
Quote: "I was raised with the notion that you provide service. You have to care. You have to care about people. You have to care about the world." - Audrey Rosenberg
Links:
Episode #11:

Trusting Your Instincts and Finding Authenticity in the Entertainment Industry with Audrey Rosenberg

Alice Chang
Her Story: Alice Chang is the CEO of PerfectCorp, the developer of the award-winning YouCam apps. Her extensive experience in technology and passion for beauty intersected to create a suite of AR beauty apps that upended the shopping experience for makeup products. Users can discover, try on, and purchase products all on a mobile platform. The virtual try on technology has been used by over 400 beauty brands. Prior to this, Chang was the CEO of Cyberlink Corporation, where she led the company to global success.
Quote: "Everybody is afraid of failure, but sometimes failure is the step to your next success. It is something you can leverage for your future success." - Alice Chang
Links:
Episode #12:

Dreaming Big and Taking Risks: Lessons from Alice Chang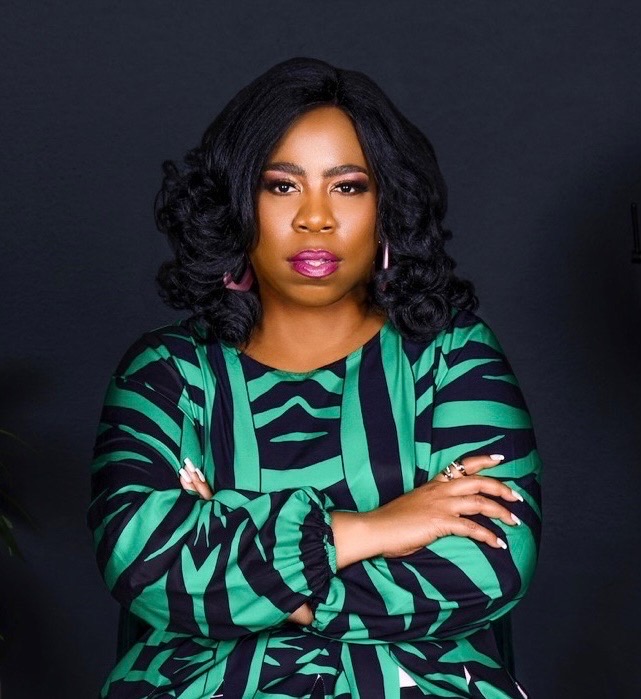 T'Mil Curtis
Her Story: T'Mil Curtis is a veteran music industry executive who has overcome incredible challenges to achieve success. Despite being diagnosed with a chronic pain condition, she has built a thriving consulting agency and recently accepted the role of general manager at VGNBae Studios Music, a record label in Houston, Texas. T'Mil continues to defy the odds and walks to the beat of her own drum.
Quote: "Those uncertainties are there. But being able to be fortified in your faith is your superpower, knowing that we were created to do anything that we need to. Even if a challenge happens, I remember my 'why' and that I was created for this. There is a peace in how everything unfolds." - T'Mil Curtis
Links:
Episode #13:

Building Resilience for Success in Business and Life with T'Mil Curtis
Watch a clip from Jaime's episode below and listen to the full episodes here.
I can't put a value on the inspiration Season 1 has provided to me. If this season touched your heart or lit your fire, please leave a review, share with your friends, and reach out to me on instagram.
I am already making plans for Season 2, and I can't wait to sit down with even more women of influence. If you or someone you know would be a great guest on Season 2, please fill out this form here.
Connect with me below!
Connect with Joy: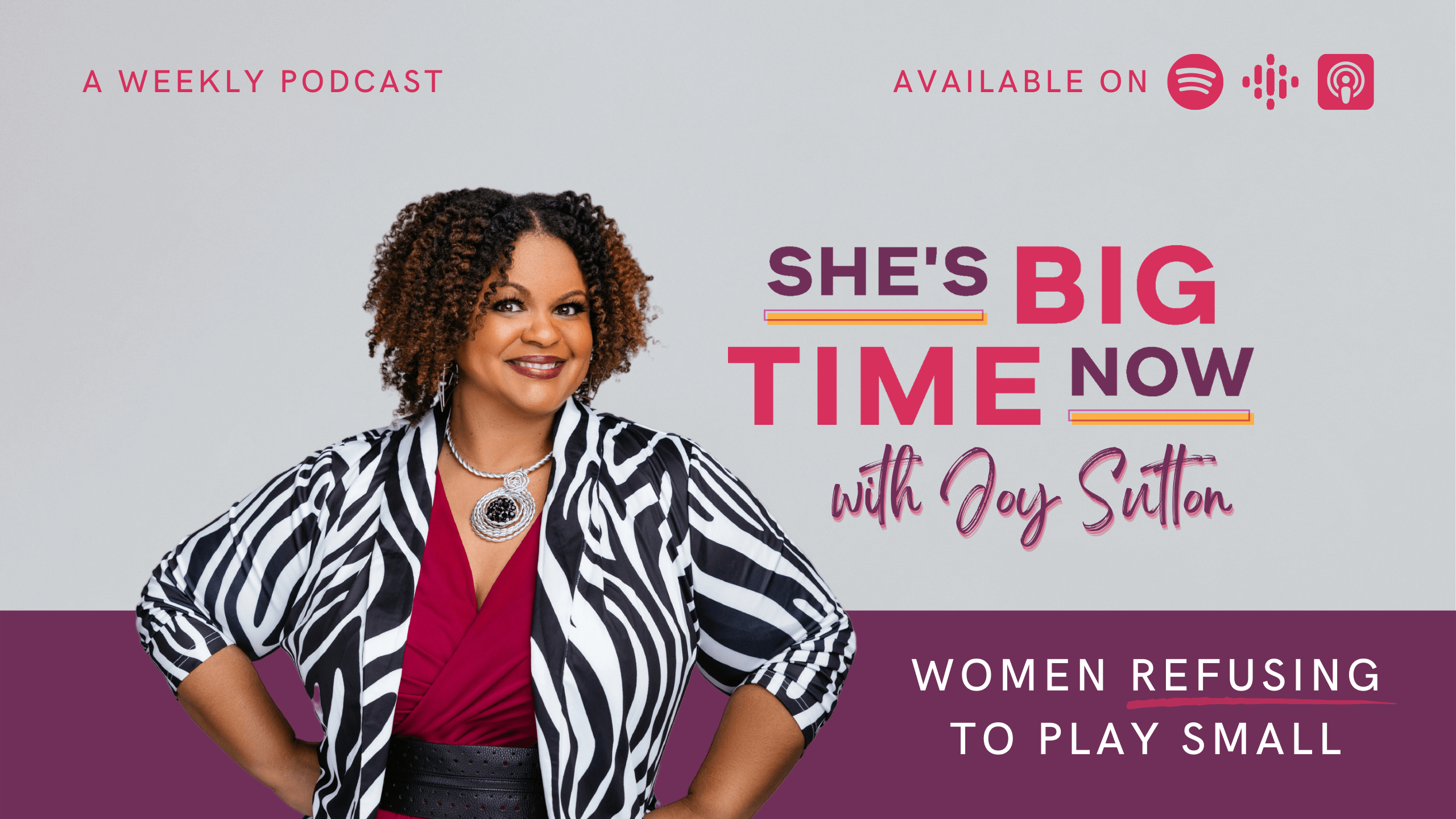 Subscribe to the show so you don't miss any more episodes, share, and leave a review so that others can find it: shesbigtimenow.com
https://www.instagram.com/joysuttonmedia
https://www.facebook.com/joysuttonmedia
https://www.linkedin.com/in/joy-sutton-671b0953
To book Joy for your event, visit www.thejoysutton.com
Thank you for joining me on this journey where we are refusing to play small ~ Joy Sutton
Leave me a voice message here: